Vito Capone in his "Moneyland" loan company commercial in "The Hood, the Bud, and The Kelly: Part 1" in Season 10 of MWC.

Born:
????
Gender:
Male
Occupation:
Local area mobster / loan shark
About:
enlists Gino, one of his henchmen, to observe and oversee the production of an exercise video which Bud was directing, and for which he borrowed $3,000 from him to complete
Character played by:
Perry Anzilotti
Vito Capone, a local mobster and loan shark to whom Bud, in attempting to shoot an exercise video, becomes indebted in the episodes of MWC: titled "The Hood, the Bud, and the Kelly: Part 1" and "The Hood, the Bud, and the Kelly: Part 2". The part of Vito is played in the episode by Perry Anzilotti.
About Vito
Edit
When Bud, who's seeking money to make a sexy exercise video in which Bundy is also to appear, gets turned down by practically every bank in town, he sees Vito (no relation to Al, as he says in his TV commercial), who owns a loan company called Moneyland on a TV commercial. In the ad, Vito says "If you're a worthless bum who's been turned down by every bank then catch the bus or have your mommy drive you down to Money/and. We turn down no one... So come on by!", as he then gives Moneyland phone number "1-800-HORSEHEAD"!
After Bud goes to Vito and gets the loan accepted, all's go for the video... with only one stipulation...it must be completed by 5 p.m. that next afternoon and Bud has to pay the loan back with interest...or else, for Bud's sake, as Vito introduces his enforcer, Gino onto the set to make sure the video is completed!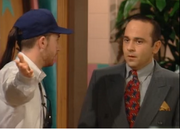 In the end, Vito's extortion plan foiled when three of the girls in the video along with Kelly and Latino stud Rafael turn out to be Chicago police detectives!
Appearances
Edit