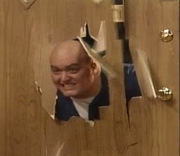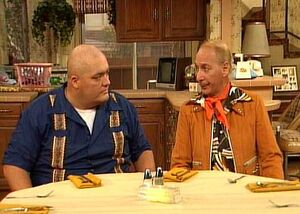 Uncle Otto & Uncle Irwin
are the sons of
Ephraim Wanker
and
Peg's Mom
and
Peggy Bundy
's brothers,
Al Bundy
's brothers-in-law and uncles to
Kelly
and
Bud Bundy
.
Otto, although unquestionably a Wanker, seems the most sophisticated member of the clan, and shares a fashion sensibility with Kelly. Otto is a rather fey individual, joining in with 'the girls' rather than 'the boys' during the singalong. Irwin, on the other hand, is Bud's favorite by far, given his constant tendency to charge things with his head and destroy them. Their style and frequency of bickering suggests they may well spend too much time together.
Otto is played by James "Gypsy" Haake, and Irwin by King Kong Bundy.
Appearances
Edit
Ad blocker interference detected!
Wikia is a free-to-use site that makes money from advertising. We have a modified experience for viewers using ad blockers

Wikia is not accessible if you've made further modifications. Remove the custom ad blocker rule(s) and the page will load as expected.