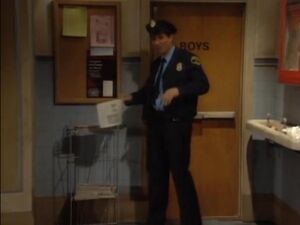 Travelin' Man is a 1961 song performed by Ricky Nelson.
Al sings this song in season 5's "All Night Security Dude".
Al is heard singing the song while in the bathroom. At the same time, the school is being vandalized by the students, but he apparently doesn't notice anything.
Lyrics as heard on the show
Edit
I'm a travelin' man
I've made a lot of stops
All over the world
And in every port I own the heart
Of at least one lonely girl
Ad blocker interference detected!
Wikia is a free-to-use site that makes money from advertising. We have a modified experience for viewers using ad blockers

Wikia is not accessible if you've made further modifications. Remove the custom ad blocker rule(s) and the page will load as expected.