Bud introducing Tiffany to the family in the MWC episode "Earth Angel"

Sex:
Female
Body type:
Buxom
Character played by:
Dawn Merrick in the MWC episode titled "Earth Angel" in Season 1
Tiffany is the eponymous Earth Angel of the Married with Children episode of the same name, the gorgeous creature Bud finds and brings home, initially (before he sees her) over Al's objections. Tiffany is played by actress Dawn Merrick.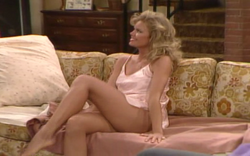 Ad blocker interference detected!
Wikia is a free-to-use site that makes money from advertising. We have a modified experience for viewers using ad blockers

Wikia is not accessible if you've made further modifications. Remove the custom ad blocker rule(s) and the page will load as expected.