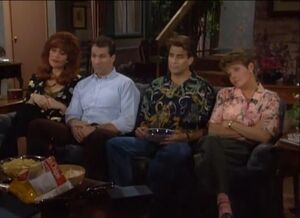 The Way We Were is a song performed by Barbra Streisand for the movie of the same name in 1973.
In the season 5 episode, Kids! Wadaya Gonna Do?, it is performed Al, Peggy, Jefferson and Marcy in an accapella version in their heads, as they are watching the 1988 movie, Beaches.
[Al Bundy]
Mem'ries,
Of the world I left behind
Misty water-colored memories
Of the way we were
[Peggy Bundy]
Shattered pictures,
Of the smiles I left behind
Smiles we gave to one another
For the way we were
[Jefferson D'arcy]

Can it be that it was all so simple then?
Or has time re-written every line?
[Marcy D'arcy]

If we had the chance to do it all again
Tell me, would we? Could we?
[Together]
Mem'ries, may be beautiful and yet
What's too painful to remember
We simply choose to forget
So it's the laughter
We will remember
Whenever we remember...
The way we were...
The way we were...
Ad blocker interference detected!
Wikia is a free-to-use site that makes money from advertising. We have a modified experience for viewers using ad blockers

Wikia is not accessible if you've made further modifications. Remove the custom ad blocker rule(s) and the page will load as expected.