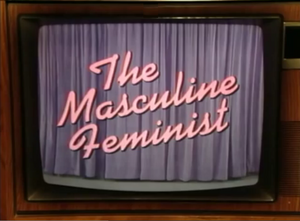 "The Masculine Feminist" was a (parody) TV talk show hosted by Jerry Springer, who makes a guest appearance in the episode of Married... with Children titled "NO MA'AM". The show was strictly devoted to women's issues, and the advancement of a pro-feminist agenda; it aroused the ire of Al and his buddies so much that it prompted them to create their anti-feminist organization, NO MA'AM (The National Organization of Men Against Amazonian Masterhood).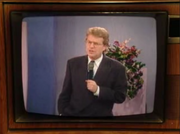 When Al and his buddies discovered that their Thursday night bowling night at Jim's Bowl-A-Rama had been replaced with a Women's Bowling Night, and that the nudie bar had been turned into a coffee house. One of their first actions was to take talk show host Jerry Springer ("The Masculine Feminist") hostage, and issue a series of demands on the air. It was during this time that the group had their first encounter with the club's chief nemesis Marcy D'Arcy, who had them arrested for their crimes. ("NO MA'AM")
Ad blocker interference detected!
Wikia is a free-to-use site that makes money from advertising. We have a modified experience for viewers using ad blockers

Wikia is not accessible if you've made further modifications. Remove the custom ad blocker rule(s) and the page will load as expected.