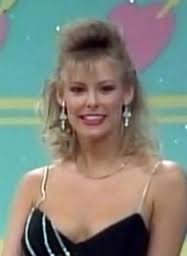 The Lovely Zelda was a character who appears in the Season 2 episode of Married... with Children entitled "Just Married... with Children". The part of Zelda is played in the episode by Jessie Scott.
Description
Edit
In the episode "Just Married... with Children" in Season 2, when the Bundys, who are posing as The Rhoades, appear on a sadistic game show called "How Do I Love Thee", where the contestants can win prizes and cash by torturing their mates, the shows host, Bink Winkleman and Zelda both seem to try to outdo each other in playing up to the camera.
When Roland Squab, who competes with his wife Mona against the Bundys, complains to Bink about Al, who was escorted backstage by the buxom bombshell Zelda before a segment in the show, that Al, as Steve "won't let (me) touch the lovely Zelda", Bink, sounding as if he has disrespect for the intelligence and chastity of the lovely but seemingly slightly dim witted Zelda, responds "Well, then, you won't be at the clinic getting a shot!"
Appearances
Edit