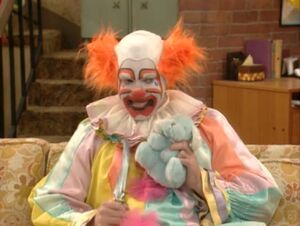 Sticky The Clown is a former TV clown who is hired to entertain at Bud Bundy's 18th birthday party. He appears in the season 6 episode, "Rites of Passage", and is played by actor Roger Hewlett.
Description
Edit
He appears to be a middle aged man, with some serious mental issues, alcohol addiction and a penchant for violence.
On Bud's 18th birthday, Peg reveals that she has hired Sticky and a pony for the party, as she remembered that he was a big fan of his television show, though he points out that he hadn't watched him since he was 12 years old.
Peg indicated that he is finally out on a work release program and he realized that what he did (hinting that he may have either killed or seriously injured someone) was wrong. She points out that she was able to hire him for only $5. Marcy is also surprised to hear he is finally out. When he is at the Bundy house, he is sitting down with a stuffed animal, petting it and giving it a kiss, before jamming a sharp knife through it, while Peg and Marcy note that still has it while looking on.
After Roxanne arrives and says that she'll miss Bud, he tells her that she "must have confused me for a clown who gives a damn" as he drinks from a flask. He then starts to put his arm around her and stroke her hair, which creeps her out, until she tells Kelly that she has to home, since she would rather not spend her Saturday night being flirted with by him.
Appearances
Edit
Ad blocker interference detected!
Wikia is a free-to-use site that makes money from advertising. We have a modified experience for viewers using ad blockers

Wikia is not accessible if you've made further modifications. Remove the custom ad blocker rule(s) and the page will load as expected.