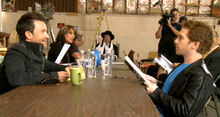 Star-ving was an online-exclusive 12 episode comedy series created by and starring David Faustino and Corin Nemic (best known as the title character from the Fox series, "Parker Lewis Can't Lose"). The series was exclusive to Crackle during its 2009 debut, though it currently can be found on Hulu for free.
On the series, David plays an exaggerated version of himself, where he is completely broke (stating that he and the cast of MWC do not get any residuals from the show), constantly attempts to kill himself, and found out that his wife had left him for rapper Coolio. The only source of money he has to his name is a small porn shop left to him by a crazed fan and his attempts to remind people he was famous for playing Bud Bundy on Married with Children for 11 years usually gets him nowhere. He lives with his mom and Corin in a rundown house and usually try various ways to earn extra money and/or food. Though for the most part, his attempts fail due to his inability to handle alcohol or Corin getting involved.
In the first episode he is joined by Ed O'Neill as David tries to borrow money from him. In the fourth episode, they are both joined by Katey Sagal and Christina Applegate in an attempt to make a Married with Children movie, with Bud now being played by Seth Green and David reduced to a pizza delivery guy. The show also featured Alan Thicke, Gilbert Gottfried and Ossie Mair who made guest appearances on MWC.
Other guest appearances include Ron Jeremy, Kato Kalin, Jeremy Miller, Tracey Gold, Seth Green, Ed Asner, Darius McCrary and Coolio.
Ad blocker interference detected!
Wikia is a free-to-use site that makes money from advertising. We have a modified experience for viewers using ad blockers

Wikia is not accessible if you've made further modifications. Remove the custom ad blocker rule(s) and the page will load as expected.