Rodney Kageyama appeared as a restaurant owner in the Season 5 episode "Look Who's Barking".

General Actor Information
Born:
1942
Vitals
Personal/Family Information
Series Involvement
Appeared on:
Married... with Children
Character/Appearance on MWC:
Restaurant owner
Episodes appearances:
"Look Who's Barking" in Season 5
Rodney Kageyama appeared as a restaurant owner in the Season 5 episode of Married... with Children titled "Look Who's Barking". A Nisei Japanese American (second-generation), Rodney is a veteran stage, film and TV character actor.
In 2007, Kageyama was diagnosed with Non-Hodgkin lymphoma. He underwent chemotherapy and as of spring 2008 was declared cancer-free.
Rodney began his career in San Francisco as one of the original members of the Asian American Theater Company. While in San Francisco he attended the American Conservatory Theatre. In 1979 Kageyama moved to Los Angeles where he joined the Asian American theatre group, East West Players (EWP), working not only as an actor, but also as a director and designer.[1] In 1985 he received a Drama-Logue Award for Costume Design for EWP's Rashomon.[2] In 1993, Kageyama directed The Grapevine, written by Grateful Crane Ensemble founder Soji Kashiwagi, produced at the Los Angeles Theatre Center. In spring 2001 Kageyama played Erronius in an all Asian American production of the musical, A Funny Thing Happened on the Way to the Forum at EWP in Los Angeles.[3]
Film & TV
Edit
Rodney has acted on many films, notably The Karate Kid, Part II, The Next Karate Kid and Gung Ho. He was also featured in the Golden Dreams film exhibit which opened the Disney California Adventure Park theme park. He has appeared in many TV shows including Quantum Leap and Home Improvement.
Appearance on Married...With Children
Edit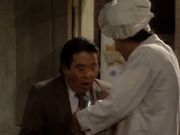 He appeared on the season 5 episode,
Look Who's Barking
, as the owner of the Italian restaurant that Buck visits in search of food. One of the employees takes pity on him and tries to offer Buck some meatballs, but the owner stops him and screams out in anger when he found out that it was food for tomorrow's special. He then shoves the employee away from the door and shoos Buck away.
Community work
Edit
Kageyama is heavily involved in community activity, often volunteering for various organizations. He has served as an emcee and directed shows for many charitable events.[4] He is a docent at the Japanese American National Museum, where he does story telling for visiting children. He is also an animal advocate and helps place dogs in homes.[5]
Honors and awards
Edit
2006 "Community Treasures" Award, Cherry Blossom Festival of Southern California
2005 "Rae Creevey" Award (for volunteer service), East West Players 39th Anniversary Awards[6]
References
Edit
External links
Edit
Ad blocker interference detected!
Wikia is a free-to-use site that makes money from advertising. We have a modified experience for viewers using ad blockers

Wikia is not accessible if you've made further modifications. Remove the custom ad blocker rule(s) and the page will load as expected.