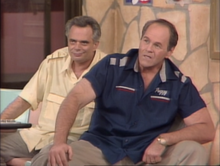 Puggy Weaver was a friend/competitor of Al Bundy until his death.
He makes his one and only appearance in season 4's Peggy Turns 300, as the current record holder at Jim's Bowl-A-Rama. Al had found out that Puggy was moving out of the neighborhood and wanted to break his record in front of him. After a few moments of trading insults, Al bowls an almost perfect game, until Peg takes his attention away while trying to finish his game. As he was about to break Puggy's record, Peggy call him "Honey" which causes him to tense up and loose focus, making him able to hit only seven pins. Puggy got up and was excited at seeing Al lose, smugly telling Al, "A two-four-ten split. You'll have to pick 'em all up and bowl a strike if you want to break my record."
After telling a nervous Peg to get out of his sight, Al continued on until he finally broke the record, causing an upset Puggy to leave with his friend.
In season 9's Shoeless Al, it is mentioned that Puggy had died some time after season 4. As members of NO MA'AM prepare for their upcoming bowling league competition, it is mentioned that they are playing for the Puggy Weaver Memorial Cup. When asked about him, he was described as someone who "symbolized the Olympian ideal of pure competition". Al then tells them that Puggy died during a waffle eating competition, trying to swallow 8. Al and the other members tried to stop him at 7 waffles, but Puggy refused as he wanted to go for the record.