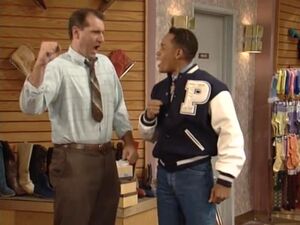 Polk High Anthem
is the school song for Polk High which is sung by Al and Aaron when Al notices that Aaron is a fellow Polk High football player and graduate.
It is heard in the season 8 episode "Scared Single".
Oh Polk, you're the best of all the schools
For you we'll always cheer
By day, we learn to read and write
By night, our team will fight, fight fight
No matter where we are
We will always give a rah
For P-O-L-K
P-O-L-K
Polk, Polk, Polk
Ad blocker interference detected!
Wikia is a free-to-use site that makes money from advertising. We have a modified experience for viewers using ad blockers

Wikia is not accessible if you've made further modifications. Remove the custom ad blocker rule(s) and the page will load as expected.