Piper (right) and rival Kelly in "Kelly Bounces Back" in Season 5 of MWC.

Occupation:
Old modeling school classmate/nemisis of Kelly who, like her, is one of the hopefuls trying to audition for the Alante sportscar TV commercial; steals Kelly's modeling move, The Bundy Bounce which she used in the audition
Appeared on:
Married... with Children
Character played by:
Tia Carrere
Piper Bauman is a character who appears in the Season 5 episode of Married... with Children titled "Kelly Bounces Back". The part of Miss Beck is played in the episode by Tia Carrere.
Description
Edit
In the episode, at a local car show, Miss Beck, the casting director for a commercial for a fancy sportscar called the Allante, which Kelly and other hopefuls are auditioning to be the new spokesmodel for, comes in with her assistants and begins the auditions. After a couple of immediate rejects, Piper, a modeling school classmate and nemisis of Kelly's, who learned Kelly's signature move which she invented to nab the part, which she calls The Bundy Bounce, which Bud, in hoping to score with Piper, taught her behind Kelly's back, is called up. As Bud continues to play with Piper's hair, she tells Miss Beck that she is nervous and Kelly suggests that maybe she wouldn't be if she had worn some underwear that day.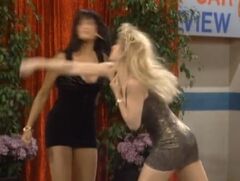 Kelly greets her and notes that she's also trying out for the audition. Kelly informs her that she is confident that the role will be hers, before Piper questions her, noting that Kelly complained of tension headaches during smiling class. She then asks Kelly what she's planning to do as she deliberately flips her hair into Kelly's face. She tells Piper that since she's coming after her, she'll just waiting until the pig calls stop and then follow after her hoof prints. Piper turns to Kelly and they start calling each other names, until Kelly calls her "Can't accessorize" causing Piper to say that really hurt her, but she just smiles and walks away. After a violent confrontation ensues between Kelly and Piper, where Kelly knocks her out, and Kelly wins the job, Miss Beck stops by the Bundy home and congratulates Kelly, and then wonders out loud, asking what happened to Piper, as Kelly, who almost let the cat out of the bag concerning the fight between she and Piper, makes an excuse for Piper's absence, saying it was "stage fight", before correcting herself and saying "stage fright"!
Appearances
Edit
Ad blocker interference detected!
Wikia is a free-to-use site that makes money from advertising. We have a modified experience for viewers using ad blockers

Wikia is not accessible if you've made further modifications. Remove the custom ad blocker rule(s) and the page will load as expected.