General Actor Information
Birth Name:
Paul Montgomery Shore
Also known as:
The Weasel
Born:
February 1, 1968
Birthplace:
Hollywood, CA, U.S.
Vitals
Gender:
Male
Height:
5'7.5"
Occupation:
Actor, comedian, MTV VJ
Years active:
1989-present
Website/URL:
http://www.paulyshore.com
Personal/Family Information
Series Involvement
Character on MWC:
The Captain
Episodes appeared in:
A Three Job, No Income Family (season 3)
Pauly Shore
(born February 1, 1968) is an American actor, comedian, director, writer, and producer, best known for his comedy films from the early to mid 1990s.
Biography
Edit
Born in Hollywood, CA to comedians Sammy and Mitzi Shore, he got his first taste at stand-up comedy at a young age, as his mom was the founder of the Comedy Club in Los Angeles. He graduated from Beverly Hills High School in 1986 and started his comedy by meeting legends such as Richard Pryor and Sam Kinison, who mentored him and had him open for him on several occasions.
During the late 1980s into the early 1990s, he worked as a MTV VJ. During this time, his film career grew, appearing in movies such as "Encino Man", "Bio Dome", "Son-in-Law" and "Jury Duty". In 1997, he had his own show on Fox, called "Pauly", though it only lasted for 5 episodes before it was cancelled. By the late 1990s, his acting career had slowed down.
Eventually, he focused on his stand up comedy as well as writing, directing and producing films. In 2003, he produced the mockumentary, "Pauly Shore is Dead", followed by 2010's "Adopted".
Most recently, he appeared in "Pauly Shore Stands Alone", a Showtime documentary about his current life situation after his fame faded away and performing stand up comedy in the Midwest.
Appearance on Married with Children
Edit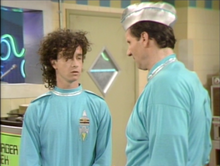 He appeared on Married with Children in the season 3 episode A Three Job, No Income Family as the Captain, a supervisor at Burger Trek where Al is forced to work. He often has to leave his post at the register to remind Al about how to make the burger properly or why didn't he make the "Whoosh" sound when the burger is sent out.
Besides his appearance in season 3, in later seasons, Al would usually make reference to Pauly Shore's acting career.
In season 8's "Ride Scare", after Al gives up his spokesman job to save Kelly's job as the Verminator, they walk through the park and he tells her "So I don't get my fifteen minutes of fame. That just means Pauly Shore gets a half hour". Kelly then mentions that he is funny and Al responds "Ha-ha-ha..No"
In season 10's "Guess Who's Coming To Breakfast, Lunch and Dinner" Al tells Jefferson "Don't you know that all horrible things happen in 3s: Celebrity deaths, Pauly Shore movies and Wilson-Philips"
In season 10's "The Joke's on Al", after Griff ends up in prison due to a prank and Kelly finds out about it, she tells Al "Daddy, guess who's in prison?" and he tells her "Unless its Pauly Shore, I do not care"
External Links
Edit