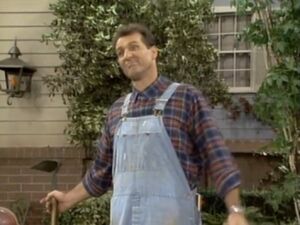 Old MacBundy Had a Farm is a song that Al sings while farming in his vegetable garden in the season 5 episode, Wabbit Season, as he attempts to garden away his stress.
It is a parody of the traditional nursery rhyme, Old MacDonald Had a Farm.
Old MacBundy had a farm,
B-U-N-D-Y
And on this farm there was no wife,
B-U-N-D-Y
With a no wife here, and no kids there,
a hooker coming in on Friday nights,
big luscious hooters and a pizza and a beer there
Old MacBundy had a farm,
B-U-N-D-Y.
Ad blocker interference detected!
Wikia is a free-to-use site that makes money from advertising. We have a modified experience for viewers using ad blockers

Wikia is not accessible if you've made further modifications. Remove the custom ad blocker rule(s) and the page will load as expected.