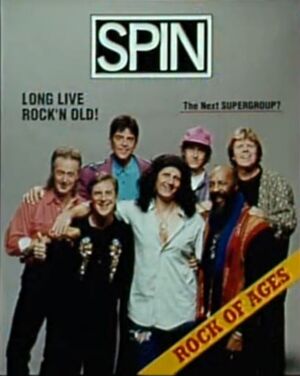 Old Aid is a supergroup consisting of Al "Axl" Bundy and musicians from various bands of the 1960s. They perform their only single "We Are The Old" in the season 7 episode, Rock of Ages.
The supergroup's name is a parody of the 1984 charity supergroup, Band Aid.
While attempting to sneak into the first class lounge at the airport, Al bumps into John Sebastian, who gets to walk in without having to show a ticket. Jealous at what he just saw, Al decides to sneak in by stealing a wig and pretending to be a musician named Axl Bundy of a ficticious band named "Shoes and Socks".
He is able to convince John and the other musicians in the lounge that he had jammed with them back in the late 1960s. Later on, as the musicians decide to have a small jam session, Al grabs a sandwich and starts to play it like a harmonica, impressing all of them with his skills. When Al hears his that his actual flight is departing, he's about to drop the rock star persona and leave, when the musicians convince him to join them for a benefit gig, since they need all the musicians that they can get.
Al "Axl" Bundy (sandwich player, "Shoes and Socks")
John Sebastian (singer/guitarist, "The Lovin' Spoonful")
Peter Noone (singer/guitarist, "Herman's Hermits")
Mark Lindsay (singer, "Paul Revere and the Raiders")
Spencer Davis (singer, "The Spencer Davis Group")
Richie Havens (folk singer)
Robby Krieger (guitarist, "The Doors")
Ad blocker interference detected!
Wikia is a free-to-use site that makes money from advertising. We have a modified experience for viewers using ad blockers

Wikia is not accessible if you've made further modifications. Remove the custom ad blocker rule(s) and the page will load as expected.