During the show's 11-season run a lot of merchandise for Married... with Children was licensed by ELP Communications and sold, especially in the United States and Germany. Most of it is pretty rare and hard to find today.
United States
Edit
Pig Out With Peg - Secrets from the Bundy Family Kitchen, Avon Books, November 1990, ISBN 0-380-76431-8
Bundyisms - The Wit and Wisdom of America's Last Family, Boulevard Books, May 1997, ISBN 1572972513
United States
Edit
For a complete list of all comic books released in the United States see List of MWC Comic Books.
Twelve of the original comics published by NOW Comics were translated to German and published by Bastei Lübbe in Germany in 1993. According to the covers they cost DM 5,- at the time and were also sold in Austria, Switzerland, France, Italy, the Netherlands, and Spain (because those countries' prices are featured on each cover, too)[1][2].
Heldenfüße (original Feet Feats)
Die Schöne und der Strand (original Beauty and the Beach)
Die Love-Line (original The Love Line)
Wenn die Hochzeitsglocken läuten (original For Whom the Wedding Bells Toll)
...Vater sein dagegen sehr (original Father Knows Worst)
Im Schweine-Himmel (original Viva Las Bundys)
Big Man Bundy (original Big Man Bundy)
Al Bundy im Jahre 2099 (original Recognizing Authority)
Die ersten Pickel im All (original Demanding Your Civil Rights)
Al Bundys letzte Game Show (original TV or Not TV)
Schuh Zombies (original Shoe Zombies)
O Graus - ein Fernsehteam im Haus (original The All American Family)
In Sweden, five of the original comics were translated to Swedish and sold from 1992 to 1993[3].
In 2005, Figures Toy Company released a line of 8-inch action figures based on the characters of Married... with Children in a collection called Classic TV Toys, which featured several classic shows. Altogether they released two series of four figures each and two exclusive figures. However, being released long after the show's run, none of the dolls sold well[4][5].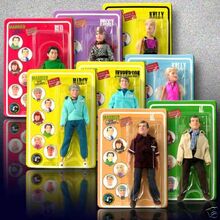 Series 1 consists of Al, Peggy, Kelly, and Bud Bundy. The dolls of Kelly and Bud were based off of their younger selves.
Series 2 was released in 2006 and consists of Marcy and Jefferson D'arcy and new versions of Al and Kelly. While Marcy and Jefferson are wearing the sports wear from the episode You Better Shop Around, Part II, Al is now wearing his bowling shirt and Kelly her pink dress.
Two exclusive figures were offered during the first and second series. Al Bundy with his Polk High 33 Jersey and Jefferson D'arcy wearing his No Ma'am shirt.
Electric Tiki Design created three maquettes based on characters of Married... with Children as part of their "Tooned Up Television" series. The aim of the maquettes was to emphasize the essential traits of the character and capture its spirit.
Peggy Bundy was the first one (and third in the series) and was released in 2002. Her maquette was designed by Tracy Mark Lee and sculptured by Tony Cipriano, aiming to emphasize her big hairdo and her unique walk. It was limited to 2500 maquettes with each one being numbered and including a certificate of authenticity[6][7].

Al Bundy was the second maquette (6th in the series) and was released in 2003. It was designed by Tracy Mark Lee and sculptured by Steve Schumacher, aiming to emphasize his habit of putting his hand down his pants and his profession as shoe salesman. It was also limited to 2500 maquettes with each one being numbered and including a certificate of authenticity[8].
Kelly Bundy was the third maquette (12th in the series) and was released in 2004. It was designed by Tracy Mark Lee and sculptured by Steve Schumacher, aiming to emphasize her sex appeal. It came in three dress colors, red, blue, and black. The red dress was limited to 1000 maquettes, while the blue one was limited to 500 and the black one was limited to 50 and only sold online[9].
A Bud Bundy maquette was planned, too, but never released[10].
Board game
Edit
In 1990,
Galoob
released a family game called
Married With Children: Act Like...Think Like...Be Like a...Bundy.
The game can be played by 3 or more players or teams but as soon as there are more than 4 players they need to start teaming up. There cannot be more than 4 individual players or teams at a time. The recommended ages are 14 and up.
DO YOU HAVE WHAT IT TAKES TO BE A BUNDY? Of course you do! There's a little bit of Bundy in all of us. And in the game "Married... with Children," you get to see just how much Bundy is in you! Players, working in teams or alone, compete for Bundy Awards by answering hilarious questions like Al, Peg, Bud, Kelly, Marcy, and even Buck the Dog would! It's outrageous, outlandish, and out-n-out fun. What else would you expect from a game that lets you... act like... be like... think like a... BUNDY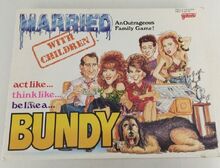 In order to earn Bundy Awards, players need to answer trivia questions, who-says questions, carry out Bundy Boopers, or use Opinion Wheels. Whoever gets 4 sets of Bundy Awards first, wins; one set being 3 of a characater
[11]
.
A full set includes 292 Bundy Cards, 64 Bundy Bloopers, 4 Opinion Wheels, 72 Bundy Awards, 4 Rules In Brief Cards, 1 Plastic Tray, and the instructions.
CDs & MCs
Edit
A few remix CDs of the MWC theme song Love & Marriage were released by so-called MC Al Bundee in Germany in 1993. Whether any of them are official, though, is not clear.
In 1993, Edel Records in association with RTL, the German TV channel that aired MWC, released a 17-track soundtrack CD called Eine Schrecklich Nette Familie - Die Musik zur Serie (Married... with Children - The Music of the Series)[12]. However, most of the songs on the CD never actually appeared on MWC (at least not on the original soundtrack).
They also released a 16-track CD called Al Bundy präsentiert: Das Schrecklich Nette Album (Al Bundy presents: The Terribly Nice Album, a play on the German title for MWC, A Terribly Nice Family) meant for so-called Bundy parties, which were a common thing in Germany during the show's run. It also included a remix of Love And Marriage featuring the German dub voice for Al[13].
Audio plays are a very popular form of entertainment in Germany. The German-dubbed sound tracks of ten MWC episodes (from season 2 and 3) have been released as audio plays on five MCs as two-part episodes by Karussell[14].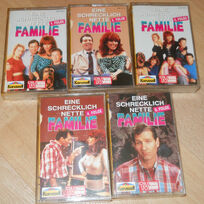 Wer nimmt mich? (Born To Walk) / Alte Zeiten (Guys And Dolls)
Mein Hund hat Kredit (Master the Possibilities) / Studioluft (Just Married... with Children)
Bringt mir das Geld von Al Bundy (Father Lode) / Männerurlaub (The Camping Show)
Der König des Klos (A Dump Of My Own) / Ein Computer würde helfen... (The Computer Show)
Warum nicht bei mir? (Here's Lookin' at You, Kid) / Sag's endlich! (Peggy Loves Al, Yeah, Yeah, Yeah)
References
Edit
Ad blocker interference detected!
Wikia is a free-to-use site that makes money from advertising. We have a modified experience for viewers using ad blockers

Wikia is not accessible if you've made further modifications. Remove the custom ad blocker rule(s) and the page will load as expected.