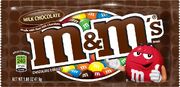 M&M's are button shaped hard shell coated chocolate candies in a variety of colors and flavors. It is known for its classic tagline "Melts in your mouth, not in your hands"
It has been mentioned on Married...With Children in various episodes.
It was founded by Forrest Mars Sr. in 1941, after observing troops in the Spanish Civil War eating chocolate that had been coated to prevent it from melting in the 1930s. The M&Ms on the candy represent the partnership of Forrest Mars (son of the founder of the Mars Candy Co.) and Bruce Murrie (son of the president of Hershey's Chocolate), who had a 20% share in the product.
Throughout the years various flavors and colors have been introduced. Current flavors include plain (a.k.a. milk chocolate), peanut, pretzel and peanut butter. Limited edition flavors include mint, coconut, cherry, cinnamon, raspberry and dulce de leche. Colors include red, yellow, orange, green, blue and brown, although on their website, there are more unique colors to choose from and also allows for customized messages and images on the M&M's.
On Married...With Children
Edit
It has been mentioned on Married...With Children numerous times, often as the remaining morsel of food that Al had found behind the refrigerator or as a tool Peg uses to get her way.
It is referenced in these episodes: