Lillian Adams As "Super Saver" Lillian in CVS Pharmacy commerical in 2011. She appears as Mrs. A. Mariner in the MWC episode "Teacher Pets" in Season 6.

General Actor Information
Birthplace:
New York City, New York, U.S.
Deathplace:
Los Angeles, California, U.S.
Vitals
Occupation:
Actress
Years active:
1958–2011
Personal/Family Information
Series Involvement
Appeared on:
Married... with Children
Character on MWC:
Mrs. A. Mariner
Episodes appeared in:
"Teacher Pets" (Season 6)
Lillian Adams (May 13, 1922 – May 25, 2011) was an American actress who appeared in over 100 film and television roles. Lillian appeared as Mrs. A. Mariner, a substitute teacher, in the Season 6 episode of Married... with Children titled "Teacher Pets".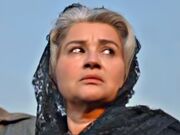 Lillian appeared in such films as Private Benjamin and Bruce Almighty, and television series as Archie Bunker's Place, The Twilight Zone, and NYPD Blue. Her most recent film project was an independent film titled At What Price.[1]
She also appeared as a spokesperson in commercials for CVS Pharmacy as Super Saver Lillian.
Filmography
Edit
The Suite Life on Deck (2008) as Mrs. Pepperman
Ugly Betty (2006) as Esther
Bruce Almighty (2003) as Mama Kowolski
Two and a Half Men (TV series) (2003) as Mrs. Freemantle
Malcolm in the Middle (TV series) (2000) as Mona
Becker (TV series) (1998) as Mrs. Rowick
Dharma & Greg (TV series) (1997) as Mrs. Spinoza
Wings (TV series) (1990) as Older Lady
Murphy Brown (TV series) (1988) as Estelle
Out of This World (TV series) (1987) as Evie (age 80)
Archie Bunker's Place (TV series) (1979) as Mrs. Plotkin
The Jerk (1979) as Tillie
Mannix (TV series) (1968) as Italian woman
Dragnet 1968 as Mother Maria, Gypsy con artist
Ironside (TV series) (1967) as Mrs. Farber
Family Affair (TV series) (1966) as Mrs. Mariani
The Outer Limits (TV series) (1963) as Dix's Mother, from the episode "Nightmare"
The Wild and the Innocent]] (1959) as Kiri Hawks
Whirlybirds (1958) as Drugstore Clerk
References
Edit
External links
Edit