Letha Weapons appears as "Rocki Mountains" in the episode "The Naked and The Dead, But Mostly The Naked".

Born:
July 5, 1972
Birthplace:
New Orleans, Louisiana, U.S.
Gender:
female
Height:
5'3" (1.60 m)
weight:
125 lbs. (57 kg)
Measurements:
38FF-26-32
Body type:
Slim/Buxom
Occupation:
Porn actress/adult model/stripper
Website/URL:
Official website
Character/Appearance on MWC:
as Rocki Mountains in the episode "The Naked and the Dead, But Mostly the Naked"
Letha Weapons (born Stephanie Smith on July 5, 1972) is a former porn actress, booby dancer and adult model who has appeared in many adult films in the big-bust genre. She made an appearance on the television series Married with Children as a dancer named Rocki Mountains in The Jiggly Room in the episode "The Naked and the Dead, But Mostly the Naked".
Born in New Orleans, the Houston, TX raised Letha began her acting career at age 22. Letha is known for her large breasts and her constantly changing hairstyles. In addition to her adult films and her MWC appearance, she also has appeared on The Jenny Jones Show to confront an old school bully. She has made other appearances on Sally Jessy Raphael and The Richard Bey Show and she was a regular guest on Howard Stern's radio show.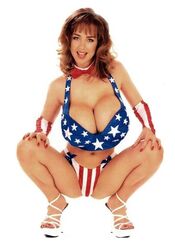 Letha is also well known for her appearance in an infamous 1994 adult video, entitled John Wayne Bobbitt Uncut, featuring the pornographic debut of John Wayne Bobbitt, whose penis was severed in a knife attack by his then wife.
In 1998, Letha became pregnant and gave birth to a daughter. She did several photo shoots while pregnant as chronicled by Juggs magazine.
Later and present career
Edit
Letha officially retired from the adult film industry in 1999, but in 2001 was featured in a comeback pictorial in Score, with much smaller breasts, due to removal of the original implants that made her famous, she had also given birth to a daughter during the time off. She claimed the change was made due to safety and health concerns. Letha continues to make appearances on stage in San Francisco as a regular feature dancer at the New Century Theater.
Magazine Appearances
Edit
Juggs (USA) November 1999 (8 months pregnant)
External Links
Edit
References
Edit