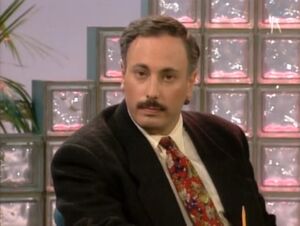 Larry Jacobson is a writer, producer, story editor and actor. On Married... with Children, he has written, produced and acted in numerous episodes.
He began writing for David Letterman in 1984 until 1994. After Married...With Children, he started working on The Tonight Show With Jay Leno  and its spinoff, The Jay Leno Show from 2007 to 2010.
On Married...With ChildrenEdit
From 1991 until 1995, he was a writer, producer and story editor for the show. Some of the episodes he's been credited with include:
In addition, he also appeared in a few minor roles on the show:
External Link
Edit
Ad blocker interference detected!
Wikia is a free-to-use site that makes money from advertising. We have a modified experience for viewers using ad blockers

Wikia is not accessible if you've made further modifications. Remove the custom ad blocker rule(s) and the page will load as expected.