Jessica Hahn appears as Ricki, a sexy redhead customer who becomes smitten with Al Bundy on MWC.

General Information
Born:
July 7, 1959
Birthplace:
Massapequa, New York, U.S.
Gender:
Female
Vital information
Occupation:
Former PTL secretary, TV personality, Centerfold model, Actress
Years active:
1991–1996 as actress, 1991-present as Celebrity
Family/Personal Information
Partner(s):
Sam Kinison 1989-1991
Ron Leavitt 1991-2008 (his death)
Series involvement
Character/Appearance on MWC:
Ricki the Shoe Groupie in the MWC episode "So This Is How Sinatra Felt" in Season 6

Jessica Hahn (born July 7, 1959) appears as Ricki the Shoe Groupie, a sexy redheaded woman who frequently visits Gary's Shoes not just to buy new shoes, but also to see Al, who she becomes infatuated with in the Season 6 episode "So This is How Sinatra Felt". Jessica was a one-time controversial former PTL secretary/turned Playboy centerfold, actress and TV and radio personality.
Jim Bakker scandal
Edit
Hahn first came to public attention following Bakker's announcement on March 19, 1987 that he was stepping down as head of PTL and Heritage USA, pending the imminent disclosure of the sexual encounter. According to Hahn, on the afternoon of December 6, 1980, when she was a 21-year-old church secretary, she was drugged and sexually assaulted by Bakker and another preacher, John Wesley Fletcher, for "about 15 minutes."[1] In his 1997 book, I Was Wrong, Bakker disputed Hahn's account, claiming that he was "set up" and that the sex was consensual.[2]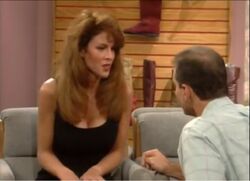 Acting and modeling career
Edit
After the public revelation of the Bakker scandal, Hahn posed for Playboy magazine pictorials and videos and appeared in several television shows, including her appearance on Married with Children.
Personal life
Edit
Hahn was born in Massapequa, New York. She had a relationship with comedian Sam Kinison and appeared in his music video for "Wild Thing" in 1988. From 1991, she had a relationship with the co-creator of Married...with Children, Ron Leavitt, which continued until Leavitt's death in 2008.[3][4]
Filmography
Edit
Hollywood: The Movie (1996) (V) as Esther
Unhappily Ever After as Miss Taylor (3 episodes, 1995)
Amanda & the Alien (1995) (TV) as TV Host
Blossom as Girl #1 (1 episode, 1992)
Dream On as Reporter 1 (1 episode, 1992)
Bikini Summer II (1992) as Marilyn
Married... with Children as Ricki (1 episode, 1991)
"Brittania Video" directed by Bryan Michael Stoller (1990)
References
Edit