Incense Berkowitz in the episode "Kelly Bounces Back" in Season 5 of MWC.

Occupation:
Hopeful, who like Kelly Bundy, auditions for the spokesmodel role in a Allante car commercial
Appeared on:
Married... with Children
Character played by:
Joanna Goode
Incense Berkowitz is a character who appears in the Season 5 episode of Married... with Children titled "Kelly Bounces Back" played in the episode by Joanna Goode.
Description
Edit
In the episode, Incense, like Kelly and Piper Bauman, an old modeling school classmate and Kelly's chief nemesis, auditions for a commercial for a fancy sports car called the Alante at a local car show. Bud, in hoping to score with one of the many pretty models there, tries to make a pass at her, by greeting her as she turns around, "Need some help? One good turn deserves another!" before she slaps his face!
When Miss Beck, the casting director, calls her name, "Incense Berkowitz", she corrects her by pronounce her name "In-sence"!
Appearances
Edit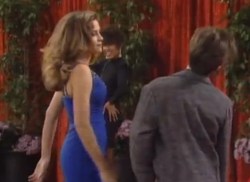 Ad blocker interference detected!
Wikia is a free-to-use site that makes money from advertising. We have a modified experience for viewers using ad blockers

Wikia is not accessible if you've made further modifications. Remove the custom ad blocker rule(s) and the page will load as expected.