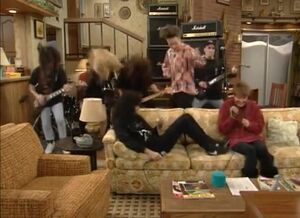 In My World is a song performed by the thrash metal band, Anthrax, for their 1990 album, Persistence of Time.
The band performs the song at the Bundy house for Kelly, Bud and Marcy in the season 6 episode, My Dinner with Anthrax. Although the song is sung by lead vocalist Joey Belladonna, the intro verse spoken by rhythm guitarist Scott Ian and the instrumental riff are the only parts heard in the episode, lasting about 40 seconds.
Lyrics as heard in the episode
Edit
[Scott Ian] (Spoken)
They're gonna put me in jail?
Man, I'm already in jail.
Don't they know that my life is just
one...big...cell?
Ad blocker interference detected!
Wikia is a free-to-use site that makes money from advertising. We have a modified experience for viewers using ad blockers

Wikia is not accessible if you've made further modifications. Remove the custom ad blocker rule(s) and the page will load as expected.