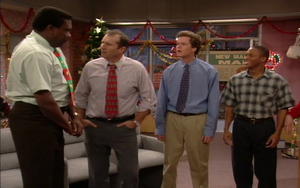 Hal and Biff are characters who appear in the Season 11 episode of Married... with Children titled "God Help Ye Merry Bundymen". The part of Hal is played in the episode by Jonathan Mangum while the part of Biff is played by Kevin Lamont Smith.
About Hal and Biff
Edit
In the episode "God Help Ye Merry Bundymen", Hal and Biff both are hired by Gary to work in the shoestore with Al and Griff. They are essentially teenaged versions of Al and Griff, but better shoesalesmen, causing Al and Griff to lose their jobs. It's Christmas time when this happens, and Al takes a job as Santa's elf. Griff gets a job as a reindeer. Al scares the teenagers away with a glimpse of their future, prompting Gary to give them their jobs back. Al is also given a Christmas tree per their agreement.
Ad blocker interference detected!
Wikia is a free-to-use site that makes money from advertising. We have a modified experience for viewers using ad blockers

Wikia is not accessible if you've made further modifications. Remove the custom ad blocker rule(s) and the page will load as expected.