Geoffrey Scott in "Dynasty" TV series publicity photo

General Actor Information
Birth Name:
Geoffrey Chase Scott
Born:
February 22, 1942
Birthplace:
Hollywood, California, U.S.
Vitals
Occupation:
Actor
Years active:
1969-2003
Also known for:
role a Mark Jennings on the ABC-TV series Dynasty
Personal/Family Information
Spouse(s):
Carol Englehart Scott, 1975-1988 (divorced)
Series Involvement
Appeared on:
Married... with Children
Character on MWC:
Gary Paterson
Episodes appeared in:
"Where's The Boss?" in Season 1
Geoffrey Scott (born February 22, 1942 in Hollywood, California) appeared on Married... with Children as Gary Paterson, a buddy of Al Bundy, who accepts a bribe from him to pose as his boss Gary to others who work at the New Market Mall as well as his family in the Season 1 episode "Where's The Boss?". A actor and stuntman, Geoffrey is perhaps best known for appearing on the television series Dynasty for two seasons (1982 to 1984) as Mark Jennings, the first husband of Krystle Carrington (played by series star Linda Evans).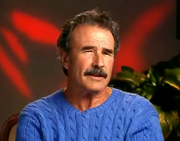 Geoffrey has also appeared on numerous daytime soap operas; playing Sky Rumson on Dark Shadows in 1970, Jeffrey Jordan on Where The Heart Is in 1972, David McAllister on General Hospital in 1989 and Billy Lewis on Guiding Light in 1994. Scott also had a leading role in the HBO sitcom 1st & Ten in the 1980s.
Personal life
Edit
Scott married producer Carol Engelhart Scott in 1975; they were later divorced. In 1988, he was involved in a serious accident when he was struck by a car while cycling. Both his legs were crushed, but he went on to make a full recovery.[1] He presently lives in Colorado.
Video interview
Edit
In a YouTube video interview, Geoffrey talks about some of his experiences of working on the set of the late 1960s-early 1970s ABC-TV daytime horror serial/soap opera series Dark Shadows, where he played the recurring role of Sky Rumson, in 2012. [2] [3]
References
Edit
↑ 'Geoffrey Scott recovering nicely', Kentucky New Era, p. 2D, May 25 1988.
External links
Edit