Futurama was an animated sci-fi comedy series that ran on FOX from 1999 to 2003. After its original cancellation, it was picked up and revived by Comedy Central, where it ran again from 2009 to 2013. The series was created by Matt Groening, the creator of another FOX series, The Simpsons, which premiered during Married... with Children's original run on the same network.
The show revolves around Philip J. Fry, a pizza delivery boy who accidentally ends up cryogenically frozen just before New Year's Day in the year 1999. He wakes up in the year 2999 and trying to start anew, works for Planet Express, a small cargo delivery service. He ends up going on intergalactic adventures with his companions, the tough mutant Leela, the crude robot Bender, intern Amy and the lobster-like crew doctor, Dr. John Zoidberg.
Leela Turanga, a one-eyed mutant who is the captain and pilot of the Planet Express Ship is protrayed by Katey Sagal, who plays Peggy Bundy on MWC.
References to MWC
Edit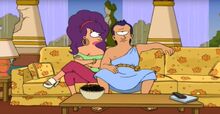 The 13th episode of season 2 of the show, titled "A Bicyclops Built for Two", paid homage to Married... with Children. In the episode, Leela dresses up like Peggy (including the bouffant hairstyle, tacky clothing and stilettos) to please her boyfriend, who asked her to call him "Al", and talks and walks in the same way Peg usually does. Her boyfriend, a cyclops whose real name is Alcazar, closely resembles Al Bundy, as he puts his hand down his pants while watching TV, shows little interest in sex with her, and flushes the toilet in the same manner. They both sit on a couch that has a similar design to the Bundy's couch and "Al" is eating bon bons like Peg usually does. In addition, an audience consisting of Alcazar's sleazy friends is there to whoop and cheer them on when they make sexually suggestive comments, similar to the way the MWC studio audience reacted.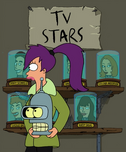 Additionally, Katey Sagal's head can be spotted in the seventh season 2 episode, titled "A Head in the Polls" as part of the TV Stars section of the head museum, and in the direct-to-DVD film Into the Wild Green Yonder, where it is an Associate Justice on the Earth Supreme Court.
Also, Dan Castellaneta, who appeared on MWC as Pete (and also voices Homer Simpson on The Simpsons) appeared on Futurama as Robot Devil (Beelzebot) in several episodes.
Ad blocker interference detected!
Wikia is a free-to-use site that makes money from advertising. We have a modified experience for viewers using ad blockers

Wikia is not accessible if you've made further modifications. Remove the custom ad blocker rule(s) and the page will load as expected.