Frank Lloyd

General Actor Information
Vitals
Occupation:
Actor/Stuntman
Personal/Family Information
Series Involvement
Appeared on:
Married... with Children
Character on MWC:
Norris/Various characters in Seasons 1-6
Episodes appeared in:
10 episodes

Frank Lloyd (born August 7, 1952) is an American actor and stuntman, who played the role of Al's friend, Norris, for the first 6 seasons of Married...With Children, along with other roles in later seaons.
Biography
Edit
Frank began acting in the 1980s and worked in television for shows like Married...With Children, Top of the Heap, Unhappily Ever After and The Drew Carey Show. Lloyd also works as a stuntman, performing stunts in movies and shows such as Die Hard 2, Wayne's World 2, Independence Day, and Spider-Man 3.
In addition, he is also a martial arts instructor, having studied under the tutelage of "Judo" Gene LeBell.
Appearance on Married...With Children
Edit
From 1987 to 1991, he played the role of Norris, one of Al's dimwitted, blue-collar drinking buddies before the formation of NO MA'AM in season 8. He apparently worked in construction. He was also a member of the New Market Mallers.
He had also appeared as various characters on the show until 1995, such as the parachuter who breaks his leg and greets Peggy in Every Bundy Has a Birthday and the referee in Flight of the Bumblebee.
As Norris
Edit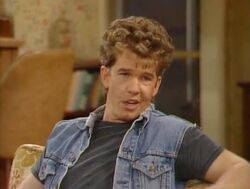 As other characters
Edit
External Links
Edit