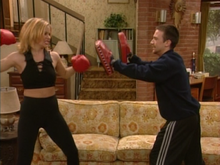 Eye of the Tiger is a song written and performed by the band, Survivor. It was written in 1982 specifically for the film "Rocky III" and has become heavily associated with the Rocky movie franchise. It has also been used in many films, shows and commercials, typically as part of a training montage.
It is heard on Married...with Children in the season 11 episode "Breaking Up is Easy to Do Part 1" in a training montage where Kelly recreates the training scenes in Rocky, such as attempting to drink a glass of eggs, sit ups, jump rope and boxing.
It is worth noting that only the intro guitar riff and the chorus are heard and the song in the episode is performed by voice actor Jess Harnell.
In the syndicated version of the episode, it is only heard as an instrumental version.
Lyrics as heard in the episode
Edit
It's the eye of the tiger
It's the thrill of the fight
Risin' up to the challenge
Of our rival
And the last known survivor
Stalks his prey in the night
And he's watching us all with the
Eye of the tiger
Ad blocker interference detected!
Wikia is a free-to-use site that makes money from advertising. We have a modified experience for viewers using ad blockers

Wikia is not accessible if you've made further modifications. Remove the custom ad blocker rule(s) and the page will load as expected.