The lovely Esther, played by Monica Lacy.

Age:
17-18 years old
Gender:
Female
Occupation:
High school student
About:
the first and only call Bud receives as an on-call counselor/operator for the Virgin Hotline as he must go to her house and talk her into maintaning her celibacy
Height:
5'6"
Hair color:
Brunette
Relatives:
Judy (mother)
Appeared on:
Married... with Children
Character played by:
Monica Lacy
Esther, a lovely young high school girl whom Bud meets as a phone call counselor for the Virgin Hotline, appears in the "Dial "B" for Virgin" episode of Married... with Children, played by Monica Lacy.
About Esther
Edit
As a hotline operator/at-call counselor, the first and only call he receives is from an Esther, a lovely teen girl who calls for help after she's tempted to "take the plunge" and have sex for the first time after turning the TV on and watching the Billy character from Melrose Place take his shirt off. After Bud arrives at her home, he has to "talk her down", as she asks him not to leave before her mother returns from work, so as if she takes her eyes off of him, she would become horny again!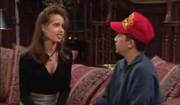 To keep her mind off of sex, as one of the activities they engage in is a game of Yahtzee as it gets him thinking about sex with her, as he spells out T-A-K-E H-E-R!
Bud's brief career as a Virgin Hotline operater is a "success", as he, with his reluctance, keeps Esther from giving into her desire to have sex, as her mother Judy comes home, and Bud then gets lucky with her, when she offers herself to him as gratitude for counselling her daughter!
Appearances
Edit