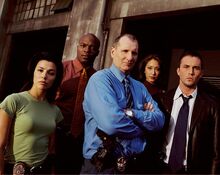 Dragnet (later renamed to "L.A. Dragnet" in its second season) was a short lived detective series starring Ed O'Neill as Detective Joe Friday. It is a reboot of the classic Dragnet series that ran from 1951 to 1970 as well as another reboot in 1989. The series ran from 2003 to 2004 on ABC and was produced by Dick Wolf, who is best known for the "Law and Order" franchise.
The series focused on Detective Joe Friday and his partner Detective Frank Smith, following a typical police procedure format, as they solved crimes in the Los Angeles area. During the 2nd season, numerous changes were made to the series, such renaming the series to "L.A. Dragnet", Detective Smith being written out and a younger, ethically diverse set of detectives was added in his place. These changes eventually led to the cancellation of the show 5 episodes into its 2nd season.
All episodes can currently be viewed on Hulu.
Ethan Embry, who played Detective Frank Smith had previously worked with Ed O'Neil in the 1991 film Dutch.