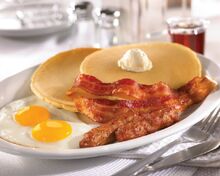 Denny's Grand Slam is a meal served at the international fast casual dining / pancake house chain, Denny's. The original version consists of 2 pancakes, 2 sausage links, 2 strips of bacon and two eggs, though more recently, it can be individually customized with items such as biscuits, ham, toast and fruit.
It is mentioned a few times on MWC, mostly by Peg, implying that she goes to Denny's by herself and has the Grand Slam to escape from the rest of the family, often upsetting them when they find out that she left them to starve.
Episodes referenced in
Edit
Ad blocker interference detected!
Wikia is a free-to-use site that makes money from advertising. We have a modified experience for viewers using ad blockers

Wikia is not accessible if you've made further modifications. Remove the custom ad blocker rule(s) and the page will load as expected.