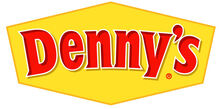 Denny's is a popular, full-service pancake house/coffee shop/fast casual family restaurant chain. It has numerous locations across the U.S. as well as other countries such as El Salvador, Canada, Qatar and Japan. It is known for never closing and offering a variety of affordable comfort meals such as the Denny's Grand Slam.
On Married...with Children, it has been mentioned in numerous episode, often as a source of cheap food for the Bundy family.
In season 3's Eatin' Out, Kelly mentions that she would throw a tantrum fit to avoid paying the 3.95 for their meal at Denny's and suggests that she could do it at the fancy restaurant the family went to after Al forgot the inheritance check.
In season 4's Its a Bundyful Life (Part II), Peg mentions the Annual Christmas Feast at Denny's and the family plans to get the Christmas Platter. After Al reveals that he didn't bring them their presents as the bank closed before he could get inside, the rest of the Bundys decide to go without him, as $8 dollars is enough to feed the three of them.
In season 5's Route 666 (Part I), Peg mentions having a Grand Slam breakfast by herself, which upsets Bud and Kelly.
In season 8's Proud to be your Bud, Kelly mentions that Bud "...has as much chance of finding a date as the cast of 'Roc' does of getting served at Denny's.". This is a reference to the popular FOX black sitcom that ran from 1991 to 1994. It is also a reference to an incident at a Denny's restaurant in May of 1993 when six black United States Secret Service agents visited the restaurant and were forced to wait an hour for service while their white companions were seated immediately upon entering.
In season 9's 25 Years and What Do You Get, Al mentions to Jefferson that he'll be taking Peg to Denny's for their anniversary and fill her up on popcorn shrimp before giving her the diamond necklace that he got for her.
In season 9's Ship Happens (Part II), as Kelly tries to convince the news reporters that Al and Peg may still be alive, one of the reporters jokes "Yeah and Hoffa's eating at Denny's!", referring to labor union leader Jimmy Hoffa, who mysteriously disappeared in 1975.
In season 10's Turning Japanese, when Jefferson keeps confusing items for being associated with Japanese culture, Mr. Shimokawa thinks to himself "In my country, this man would be filling water glasses at Denny's"
External Links
Edit
Ad blocker interference detected!
Wikia is a free-to-use site that makes money from advertising. We have a modified experience for viewers using ad blockers

Wikia is not accessible if you've made further modifications. Remove the custom ad blocker rule(s) and the page will load as expected.