General Actor Information
Born:
November 16, 1950
Birthplace:
San Diego, California, U.S.
Vitals
Gender:
Male
Occupation:
Actor
Years active:
1980-present
Also known for:
his role as Joe Isuzu for Isuzu Motors and as Charlie Dietz on Empty Nest
Personal/Family Information
Spouse(s):
Flora Kleinfeld (1975-1983; divorced)
Kelly Hutchinson (1989-1994; divorced)
Patricia Bunch (1997-present)
Series Involvement
Character on MWC:
Bink Winkleman in "Just Married... with Children" (Season 3)
David Leisure (born November 16, 1950) is an American actor, known for his roles on shows such as The Golden Girls, Empty Nest and Days of Our Lives, as well as portraying Joe Isuzu for Isuzu automobiles.
He appeared on Married... with Children as game show host Bink Winkleman in the season 2 episode, "Just Married... with Children".
Early life
Edit
Born in San Diego, California, he attended Grossmont High School and Grossmont College, both in El Cajon, California, before transferring to San Diego State University.  While attending SDSU, he was roommates with future actor Robert Hays, who he later appeared with in the 1980 film, Airplane!
Upon graduation, he appeared in various stage plays in San Diego.
Acting career
Edit
He eventually got the role of a Hare Krishna devotee in the 1980 film, Airplane!. Despite having a degree in fine arts, he spent six years looking for more work, living out of a VW van during that time and making minor appearances on shows such as Falcon's Crest. His girlfriend at the time then suggested he try attending a commercial workshop.
In 1986, he landed the role of Joe Isuzu, a fictional spokesperson for Isuzu Motors, who told outrageous lies and over-inflated claims to convince the viewers to buy an Isuzu. The role was successful, especially after a commercial was shown during the 1987 Super Bowl. He continued the role until the character was retired in 1990. The character was revived again from 1999 to 2001 for Isuzu's new Axiom models. Isuzu eventually pulled out of the U.S. auto market in 2009.
During the late 1980s he made various appearances on shows such as ALF, The Golden Girls, Sledge Hammer and 227. From 1988 to 1995, he played womanizing cruise ship employee Charlie Dietz on the show Empty Nest, which was a spin-off of The Golden Girls. His character would make guest appearances on both The Golden Girls and Nurses, a show that was a spinoff of Empty Nest.
After Empty Nest ended, he made various appearances on shows and films such as V.I.P., Sabrina The Teenage Witch, 10 Things I Hate About You, General Hospital and Days of Our Lives.
Appearance on Married...With Children
Edit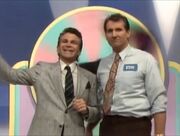 He appeared on the second season episode,
Just Married... with Children
, as Bink Winkleman, the host of the TV game show,
How Do I Love Thee?
, where newlywed couples compete for prizes by torturing their mate. He seems to be clinging on to his fame while showing how much he detests his assistant, Zelda.
External Links
Edit