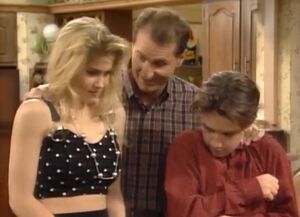 The Daddy Song is a number Al sings to Kelly and Bud, in order to keep them from voting him out of the New Market Mallers in the season 5 episode "The Unnatural".
He claims he learned it when he was their age and hoped it would get them to change their mind and not vote him out. It was unsuccessful in this. Later in the episode however, he is able to force Peg and the kids to sing it in order to convince him to bat for them again.
D is for D many pies I make you
A is for the apple in my eye
D is for D dish you ate the pie in
D is for D apple of my eye
Y...because I love you...
Put them all together...
They spell... "Daddy"
Ad blocker interference detected!
Wikia is a free-to-use site that makes money from advertising. We have a modified experience for viewers using ad blockers

Wikia is not accessible if you've made further modifications. Remove the custom ad blocker rule(s) and the page will load as expected.