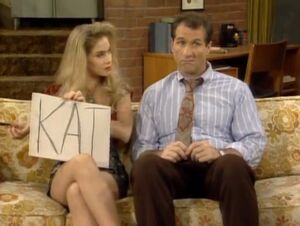 Daddy's Little Girl is a classic song typically played at white weddings while a bride dances with her father.
The song's lyrics and music were written by Robert Burke and Horace Gerlach. It was then recorded by the Mills Brothers in 1950 and later by Al Martino and Frank Fontaine
It is heard during a montage scene of Kelly in the season 5 episode One Down, Two to Go, showing her at various ages, showing Al her attempt to spell the word "Cat" and then her being brought home by the police.
Lyrics heard in the episode
Edit
You're the end of the rainbow,
my pot of gold.
You're daddy's little girl,
to have and hold.
A precious gem is what you are;
And You're Daddy's Little Girl
And You're Daddy's Little Girl
Ad blocker interference detected!
Wikia is a free-to-use site that makes money from advertising. We have a modified experience for viewers using ad blockers

Wikia is not accessible if you've made further modifications. Remove the custom ad blocker rule(s) and the page will load as expected.