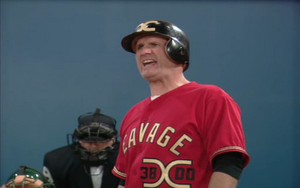 The Chicago Cleavage was the team that Al and his buddies in NO MA'AM played for in The Working Man's League, a beer/baseball league they launched in response to the MLB Players strike in 1994, and also a sendup on the subject in the Season 8 episode of Married... with Children titled "A Man For No Seasons". The team makes it to their World Series against The Snack Trays, before the league goes on strike due to a financial dispute between the players and the nudie bar owners, who helped co-sponsor the league with NO MA'AM.
Ad blocker interference detected!
Wikia is a free-to-use site that makes money from advertising. We have a modified experience for viewers using ad blockers

Wikia is not accessible if you've made further modifications. Remove the custom ad blocker rule(s) and the page will load as expected.