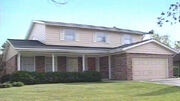 The Bundy Residence is the main location of Married... with Children and the home of the Bundy family.
The address of the house is given as 9764 Jeopardy Lane and it is located in Chicago, Illinois[1][2]. It seems to be situated close to an expressway on a hill[3][4]. Next to it on the right is the Rhoades/D'Arcy Residence.
The actual house, which was only used for outside shots, is located at 641 Castlewood Lane in Deerfield, Illinois[5].
The property the Bundy Residence lies on, is known to have been used by Native Americans as a landfill, where rotting moccasins were thrown for disposal.
Living Room
Kitchen
Washing Room
Garage (+ Bathroom)
Basement
Al & Peggy's Bedroom (+ Bathroom)
Bud's Room
Kelly's Room
Shower Room
References
Edit
Note: Stub templates just indicate what a wiki page lacks. Instead of using a stub template, add more info to the page; make the page better!
Ad blocker interference detected!
Wikia is a free-to-use site that makes money from advertising. We have a modified experience for viewers using ad blockers

Wikia is not accessible if you've made further modifications. Remove the custom ad blocker rule(s) and the page will load as expected.