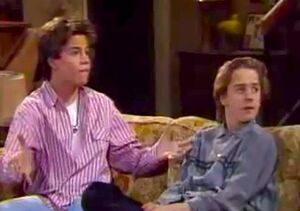 Boz was a character who appeared in the episode of Married... with Children titled "The Dateless Amigo" in Season 3. The part of Boz is played in the episode by then-teen actor Stephen Dorff.
About Boz
Edit
In the "The Dateless Amigo" episode in Season 3, Boz, who appears with Teddy (played by Giovanni Ribisi), another buddy of Bud's, when Bud tries to impress the two to try to prove that he could get a date; when Teddy and Boz both show up at the Bundy home with their dates for the evening, Bud, using a store mannequin which he got from Gary's Shoes, where Al works. Boz, who along with Teddy and their dates, are made to believe by Bud, who couldn't get a date, actually has one; Boz, quite impressed at Bud's "woman" says, "Bud got a real woman, and all we got is dead wood!"
Ad blocker interference detected!
Wikia is a free-to-use site that makes money from advertising. We have a modified experience for viewers using ad blockers

Wikia is not accessible if you've made further modifications. Remove the custom ad blocker rule(s) and the page will load as expected.