Beverly Archer in 2012 YouTube screenshot.

General Actor Information
Born:
July 19, 1948
Birthplace:
Oak Park, Illinois, U.S.
Vitals
Gender:
Female
Occupation:
Actress
Also known for:
Roles as Iola Boylan on Mama's Family and as Gunnery Sgt. Alva Bricker on Major Dad
Personal/Family Information
Spouse(s):
Robert Bernard (1976-present)
Series Involvement
Character on MWC:
Miss Hardaway in 2 episodes of MWC
Beverly Archer (born July 19, 1948) appeared in two episodes of Married... with Children as Miss Hardaway, a sexually repressed librarian and abstinence counselor who is in love with Bud.
Life and career
Edit
Born in Oak Park, Illinois, but raised in California, Beverly attended Alverno Heights High School (Sierra Madre, California), and both San Francisco State University and UC Santa Barbara, majoring in drama. She may be best known for her television roles as Iola Boylan on Mama's Family[1] and as Gunnery Sgt. Alva Bricker on Major Dad.[2]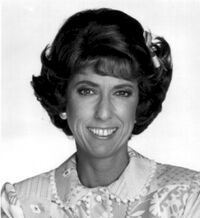 She appeared in other programs such as The Young and the Restless, ALF, and the movie Project ALF, along with many other guest appearances. She played a thieving teacher in The Brady Bunch Movie, who was caught by Bobby Brady. In addition, she appeared in a 1994 episode of Full House, where she played the role of an unsympathetic SAT test monitor. She made guest appearances on episodes of Grace Under Fire, Family Ties and The Fall Guy. She portrayed Nancy Walker's daughter in The Nancy Walker Show. Aside from acting, Archer wrote episodes for both Mama's Family and ALF. She retired in 2000.
References
Edit
↑ The Complete Directory to Prime Time Network and Cable TV Shows, 1946-Present. Random House Digital, Inc. (2007). Retrieved on 19 November 2012. ISBN 9780345497734.
↑ Buck, Jerry. "Archer expands her range by playing a tough Marine", The Milwaukee Journal, Associated Press (AP), 2 January 1993, p. T31. Retrieved on 19 November 2012.