Becky Mullen appears as Yvonne in the episode titled "Al...with Kelly" in Season 4 of MWC.

General Actor Information
Born:
July 30, 1963
Birthplace:
Los Angeles, California, U.S.
Vitals
Gender:
Female
Height:
5'8"
Weight:
130 lbs.
Body Measurements:
39DD-24-36
Body type:
Slim
Personal/Family Information
Series Involvement
Character on MWC:
Yvonne in the MWC episode titled "Al... with Kelly" in Season 4

Becky Mullen (born July 30, 1963) appears on Married with Children as Yvonne in the Season 4 episode titled "Al... with Kelly". Becky is a former wrestler, covermodel and B-movie actress, having appeared in films such as Hard Hunted, The Bikini Car Wash Company (1993), Forbidden Games (1995), Rude Awakening (1998), Voyeur (1999) and Black Scorpion (2001). She was a member of the G.L.O.W. (Gorgeous Ladies of Wrestling) organization and syndicated television series in the late 1980s. Her wrestling name for G.L.O.W. was Sally, the farmer's daughter.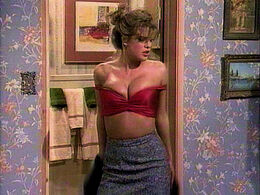 Filmography
Edit
| Year | Title | Role |
| --- | --- | --- |
| 1986 | Glitch | Beauty |
| 1991 | Slaughter: From the Beginning | Uncredited - Up All Night music video model |
| 1992 | Hard Hunted | as Becky |
| 1993 | The Bikini Car Wash Company | Schoolteacher |
| 1995 | Forbidden Games | as Linda |
| 1995 | Sinful Intrigue | as Steph |
| 1996 | Van Halen: Video Hits (music video) | Poundcake music video model |
| 1998 | Rude Awakening | Pretty Prisoner #1 |
| 1991 | Voyeur | Kris Foster |
| 2001 | Black Scorpion | Bipsy |
Television
Edit
| Year | Title | Role |
| --- | --- | --- |
| 1986 | G.L.O.W.: Gorgeous Ladies Of Wrestling | Sally, The Farmer's Daughter |
| 1989 | Hard Time on Planet Earth (TV movie) | Sally, The Farmer's Daughter |
| 1991 | Married with Children | Yvonne in episode titled "Al...with Kelly" |
| 1991 | Cast a Deadly Spell | Drop Dead Babe |
| 1992 | Affairs of the Heart (TV Movie) | Pool Girl (as Beckie Mullen) |
| 1995 | Live Shot (TV Series) | in episode "A Death In The Family" |
| 1995 | Cybill | as Ingrid in episode "Cybill Discovers the Meaning of Life" |
| 1996 | MADtv | Wynonna Juggs in episode #1.13 |
| 1996 | Hudson Street | Actress |
| 1996 | Hanging in Hedo | in episode "Line in the Sand" (as Beckie Mullen) |
| 1996 | Renegade | Girlfriend in episode "The Pipeline" |
| 1997 | High Tide | Miss Preston in episode "Dead Men Don't Snore" |
External links
Edit