Ad blocker interference detected!
Wikia is a free-to-use site that makes money from advertising. We have a modified experience for viewers using ad blockers

Wikia is not accessible if you've made further modifications. Remove the custom ad blocker rule(s) and the page will load as expected.
Becky Mullen appears as Yvonne in the episode titled "Al...with Kelly" in Season 4 of MWC.

General Actor Information
Born:
July 30, 1963
Birthplace:
Los Angeles, California, U.S.
Vitals
Gender:
Female
Height:
5'8"
Weight:
130 lbs.
Body Measurements:
39DD-24-36
Body type:
Slim
Personal/Family Information
Series Involvement
Character/Appearance on MWC:
Yvonne in the MWC episode titled "Al... with Kelly" in Season 4

Becky Mullen (born July 30, 1963) appears on Married with Children as Yvonne in the Season 4 episode titled "Al... with Kelly". Becky is a former wrestler, covermodel and B-movie actress, having appeared in films such as Hard Hunted, The Bikini Car Wash Company (1993), Forbidden Games (1995), Rude Awakening (1998), Voyeur (1999) and Black Scorpion (2001). She was a member of the G.L.O.W. (Gorgeous Ladies of Wrestling) organization and syndicated television series in the late 1980s. Her wrestling name for G.L.O.W. was Sally, the farmer's daughter.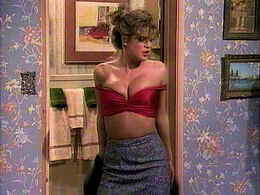 Filmography
Edit
| Year | Title | Role |
| --- | --- | --- |
| 1986 | Glitch | Beauty |
| 1991 | Slaughter: From the Beginning | Uncredited - Up All Night music video model |
| 1992 | Hard Hunted | as Becky |
| 1993 | The Bikini Car Wash Company | Schoolteacher |
| 1995 | Forbidden Games | as Linda |
| 1995 | Sinful Intrigue | as Steph |
| 1996 | Van Halen: Video Hits (music video) | Poundcake music video model |
| 1998 | Rude Awakening | Pretty Prisoner #1 |
| 1991 | Voyeur | Kris Foster |
| 2001 | Black Scorpion | Bipsy |
Television
Edit
| Year | Title | Role |
| --- | --- | --- |
| 1986 | G.L.O.W.: Gorgeous Ladies Of Wrestling | Sally, The Farmer's Daughter |
| 1989 | Hard Time on Planet Earth (TV movie) | Sally, The Farmer's Daughter |
| 1991 | Married with Children | Yvonne in episode titled "Al...with Kelly" |
| 1991 | Cast a Deadly Spell | Drop Dead Babe |
| 1992 | Affairs of the Heart (TV Movie) | Pool Girl (as Beckie Mullen) |
| 1995 | Live Shot (TV Series) | in episode "A Death In The Family" |
| 1995 | Cybill | as Ingrid in episode "Cybill Discovers the Meaning of Life" |
| 1996 | MADtv | Wynonna Juggs in episode #1.13 |
| 1996 | Hudson Street | Actress |
| 1996 | Hanging in Hedo | in episode "Line in the Sand" (as Beckie Mullen) |
| 1996 | Renegade | Girlfriend in episode "The Pipeline" |
| 1997 | High Tide | Miss Preston in episode "Dead Men Don't Snore" |
External links
Edit