Barbara Ann Moore appears as Diana, the new love of Bud's cousin Jimmy, who then cheats with Bud in the episode "The Wedding Repercussions".

General Information
Born:
August 21, 1968
Birthplace:
Spokane, Washington, U.S.
Gender:
Female
Vital information
Height:
5'6"
weight:
110 lbs
Measurements:
36"D-24"-35"
Body type:
Normal (Buxom)
Hair color:
Blonde
Occupation:
Model and actress
Website/URL:
http://www.barbarasplayhouse.com
Family/Personal Information
Known for:
Former Playboy centerfold (December '92)
Series involvement
Character/Appearance on MWC:
Diana in the MWC episode Wedding Repercussions
Barbara Ann Moore
(born August 21, 1968 in Spokane, Washington) appeared as
Diana
(or Dee Anna) in the episode
Wedding Repercussions
. A glamour model and B-movie actress, Barbara was chosen as
Playboy
's Playmate of the Month for December 1992 and has appeared in
Playboy
videos.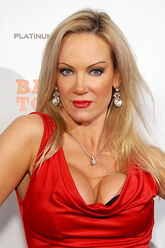 Moore served as a Playboy spokesperson for several years. She appeared in television programs and movies such as Austin Powers: International Man of Mystery. She took up ballroom dancing and eventually became a U.S. National Pro-Am Ballroom Dance Champion.
External links
Edit
Ad blocker interference detected!
Wikia is a free-to-use site that makes money from advertising. We have a modified experience for viewers using ad blockers

Wikia is not accessible if you've made further modifications. Remove the custom ad blocker rule(s) and the page will load as expected.