Bambi offers Jefferson a lap dance, which irks her, in the episode "Turning Japanese" in Season 10 of MWC.

Occupation:
Waitress/Feature dancer at The Jiggly Room
About:
gets turned away by a jealous and angry Marcy after she offers Jefferson a lap dance; turns down Bud's lustful advances, too
Height:
5'9" (?)
Hair color:
Blonde
Appeared on:
Married... with Children
Character played by:
Angela Spangler
Bambi is a waitress/dancer at The Jiggly Room who appears in the Season 10 MWC: episode titled "Turning Japanese". The part of Bambi is played in the episode by Angela Spangler.
About Bambi
Edit
When Marcy goes against her principles and reluctantly appears at The Jiggly Room in trying to get Al to agree to a price for the sale of his '71 Dodge to her boss, Mr. Shimokawa (Pat Morita), after she and Jefferson prepared dinner for him at the Bundys place, after they returned early from a buffet at the Hobo Motor Lodge, she sees that Jefferson is already there, getting attention from Bambi, who offers him a lapdance, as Marci angrily and jealously responds to her "Split, Bitch!"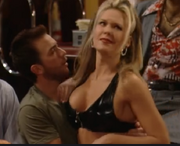 Just moments later, Bud, with mouth agape, and completely smitten with the sexy, buxom blonde bombshell, asks her, with her sitting in his lap. "Move into my parents' basement with me, babe. We'll live on love." When Bambi responds "Love?", Bud then says "Well, that and welfare!", as she ignores his sexual advances, gets up and goes back to work!
Appearances
Edit
Ad blocker interference detected!
Wikia is a free-to-use site that makes money from advertising. We have a modified experience for viewers using ad blockers

Wikia is not accessible if you've made further modifications. Remove the custom ad blocker rule(s) and the page will load as expected.