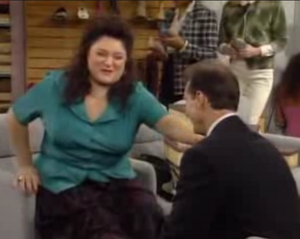 Athena was a character who appeared in the Season 5 episode of Married... with Children titled "Do Ya Think I'm Sexy?". The part of Athena is played in the episode by actress Lucy Filippone.
About Athena
Edit
When Al discovered his newly-found sex appeal through a sexy new neighbor named Brenda Kostrowski (played by Rhonda Shear) in the episode "Do Ya Think I'm Sexy?", women begin flocking to Gary's Shoes, just to get a glance at the now fancy dressing, polite mannered Al. He helps Athena, who was looking for some ballet shoes for her ballet class; impressed by Al's politeness and charm, Athena is asked by Al "Now, how many ballet slippers can I fix you up with?" as the charmed Athena blushingly replies, "You've been so delightful, I'll just take them all!!", and even leaves him a substantial tip, which she tucks into his breast pocket.
Appearances
Edit
Ad blocker interference detected!
Wikia is a free-to-use site that makes money from advertising. We have a modified experience for viewers using ad blockers

Wikia is not accessible if you've made further modifications. Remove the custom ad blocker rule(s) and the page will load as expected.