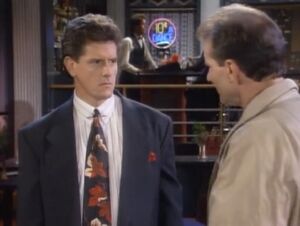 Andy is a homosexual male who goes out dancing with Peggy in the season 5 episode, The Dance Show.
He is played by Sam McMurray.
Description
Edit
He appears to be a middle-aged homosexual male. He was formerly married to a woman, before moving in with his current partner, Pete, and works in business. He is a man about town, who loves to go out all the time.
When Peg decided to out dancing with Marcy, after Al complains about not eating, she starts to complain about how some people are desperate for human contact. He then goes up to her and asks if she would like to dance, which she eagerly accepts. As they dance, they start complimenting each other, before noting that Peg took his wallet.
His partner later comes to the Bundy house and confronts Al about it, telling him that he had been trailing Andy and Peg every Tuesday and Thursday night, when they go out dancing. He is afraid that Andy will become straight again and run off with Peg, which Al doesn't mind.
Later on, as they dance, he reveals that he wasn't fully honest and that he is married (although he doesn't mention that he is gay), which upsets Peg, even though she had been lying to him as well. He tells her that he didn't mean to lead her on, but he just wanted to get out of the house and have some fun. Realizing that being married doesn't mean you're dead, they both let the issue go and happily dance again, knowing that they don't have to worry about turning each other on.
As he laughs at the fact that Al is a shoe salesman, Al comes into the dance hall and confronts him as he tries to escape from a possible beating. As Peg goes back to Marcy's table, Al talks to Andy about Pete:
"Look I don't care what your doing with my wife. But you got a good man at home that any man would be proud to call his wife. He cooks. He cleans. He works. You've obviously gotten over that little 'He's a man' thing. So what else do you want from the poor guy?"
Peggy looks on, saying how cute Al is for being jealous, but Al is still continuing on with his speech:
"Now I'm the one that oughta be going out at night. I'm married to that over there. [points to Peggy's table]. But you..you ought to be home with a man who can bake a potato like nobody's business."
He finally understands what Al was telling him and goes back home to Pete to tell him he loves him.
Appearances
Edit